So you are here trying to find out an answer to your 'how to screenshot on Snapchat without them knowing iPhone or android' search query. Don't worry because we are here to help you with the same. Yes, it's highly unethical to take screenshots of snaps without the user's consent, and even considered illegal in several countries. 
But you guys just won't stop asking us about the same – so here we are, keeping our morals aside for a second and talking about taking screenshots on the platform without letting anyone know.
1. Google Assistant For Android Users:
So, how to take a screenshot on Snapchat without them knowing? If you are an Android user, you can always count on Google Assistant. There are so many things that Google Assistant can do, and taking screenshots on Snapchat is just one of those elusive tasks. And Google Assistant doesn't even take help from any kind of third-party application.
The best way to use Google Assistant for such a purpose would be to take help from the 'Voice' command simply. Start with activating the assistant on your device by just long-pressing your home button. While doing so, remember that your screenshots will automatically get saved on the device. 
You can even access as well as share these screenshots in different applications later. But the best thing would be just to upload these on your drive and then download them later. 
Read More: How To Tell If Someone Unadded Or Remove You On Snapchat
2. Private Screenshots For Android Users:
Here's another method for finding out how to screenshot something on Snapchat without them knowing! Have you ever heard about this app called Private Screenshots, devised for Android users?
Although many users can show skepticism about such third-party apps due to several factors, such as annoying advertisements, the point is that not all third-party applications are bad. Some, like Private Screenshots, are actually good – in fact, this app has a very less number of ads comparatively.
Once you have installed the app, you can just visit the app settings and then enable the app's 'floating icon.' This particular icon will then ask for your permission every time you use the same. This floating icon on the screen might turn out to be troublesome for many users, but it's actually very convenient.
Moreover, the app works well for several platforms except for some stringently protected ones like Netflix or even your browser's Incognito tab.
3. Screen Recorder For Both iOS And Android Users: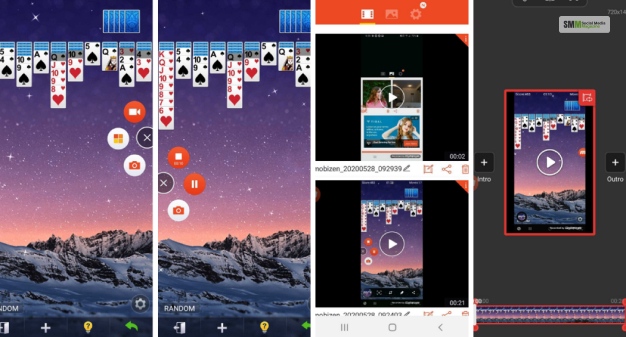 So, how to screenshot a Snapchat story without them knowing? Is there any other way apart from the ones we have already mentioned? Well, there are other ways, and this one particularly is also applicable to all iOS users.
This one's as old as it can probably get considering it's literally available for all iOS and Android devices – yes, we are talking about screen recording! Screen recording actually lets users record their phone screens while saving the same as normal video clips. At the same time, you can even use the same for recording the screen while using Snapchat.
Screen recorders also let users to crop videos, share the same, and even make GIFs out of them. So in case you like taking screenshots, you can do the same from these video recordings. 
4. Use A Different Phone For Capturing The Snap:
Using a different phone for capturing snaps or anything really is pretty easy, considering you are using a different phone. So, there's no need to separately find how to screenshot a chat on Snapchat without them knowing – because this method is applicable to all screenshots. 
Just use another phone and take a photograph or even record Snaps, chats, or even stories. Yes, these will not be your usual high-resolution screenshots, but it still happens to be a pretty great method. It's best just to record because you have no idea for home long you will have the snap. Additionally, you will only get one chance to replay the actual snap.
5. Recording The Phone On PC For Both Android And iOS Users:
This one's pretty similar to the method we have already mentioned above, only, in this case, you can use your PC for recording snaps. And the best part? Both iOS and Android users can follow this method. Again, the screenshots might not be of high quality or even high resolution, but that doesn't mean they won't serve the purpose.
But before you do so, there are some tools that you will need, such as,
ApowerMirror,
LonelyScreen, and
QuickTime.
Read More: Snapchat Neon Logo – How To Get It?
Frequently Asked Questions! (FAQs):
Check out the most frequently asked questions related to the 'how to screenshot on Snapchat without them knowing' query mentioned in detail below.
Q1. How Do You Screenshot On Snapchat Without Them Knowing 2023?
Ans: In short, there are three things you can do to take a screenshot on Snapchat without anyone finding out. Here's what you can do!
• In order to capture a snap, you can just use another phone. 
• You can also record the concerned snap and, while doing so, switch off your Mac notifications.
• At the same time, you can also use the feature called screen mirroring. 
Q2. Can Snapchat Tell If You Screen Record?
Ans: The simplest answer is yes. In fact, if you are screen recording someone's  Snapchat story, then the platform will notify the user – a 'double green arrow icon' will appear beside your name and show the user whose story you have screen recording.
Q3. Can Snapchat Record Video Calls?
Ans: Yes, you can record video calls on Snapchat. With the help of your phone, it's pretty easy to record your video calls via the Snapchat platform simply. But yes, you can't do it without letting the other person on the call know since the platform will definitely notify them. Snapchat ensures privacy for all users.
Q4. Does Instagram Notify You When You Screenshot A DM 2022?
Ans: Not really. Instagram doesn't notify users when you screenshot any of their content, including DMs or direct messages. But at the same time, if the particular DM is in vanishing mode, then, in that case, the user will most definitely be notified. The user will know that you have taken a screenshot of the message sent or content shared in the disappearing mode.
And It's A Wrap!
So now that you have a fair idea about how to screenshot on Snapchat without them knowing, what next? We would again like to mention that taking screenshots without the user's consent on any platform is unethical. So tell us what you think. And if you are sharing your thoughts, don't forget to share your experience related to the same in the comments below.
Read Also: