Handling multiple social media clients early in your career can be a pretty taxing job, but what if there was an application called Nuvi, built for assisting you to keep track of all the social media activities for different clients in one place? Well, www.nuviusa.com exists, and you can visit the website to confirm your doubts.
While the world underwent an inevitable digital transformation in the past few years, more and more businesses replaced conventional advertising methods with digital and social media marketing. Naturally, more and more social media managers faced the difficulty of handling multiple clients manually, which led to the creation of platforms like the Nuvi software.
Before jumping into 'how to use the software?', you must understand what is Nuvi and how does it benefit your purposes. Thus, keep reading to learn all about this life-changing app and how does it benefit users in detail.
What Is Nuvi?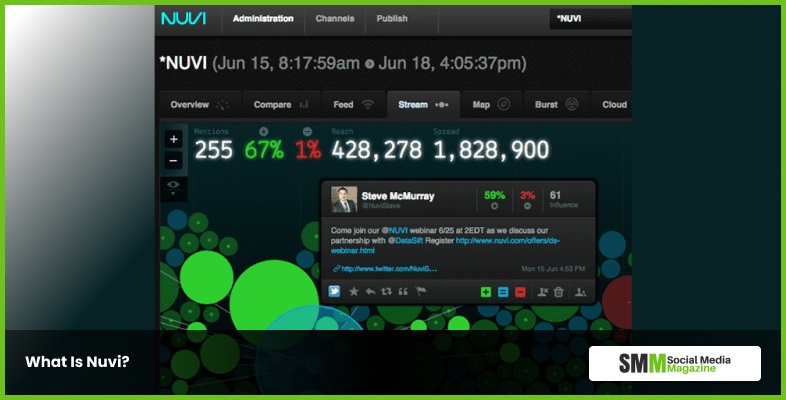 Nuvi is an innovative marketing platform integrated with intuitive features for handling advanced areas like lead generation, customer relationship management, and analytics. It is perfect for businesses dealing with social media or planning to expand their social media presence. The Nuvi analytics can help you track all social media information in one place and help you run successful campaigns.
Most businesses heavily rely on the Nuvi social media features because it helps them listen and track on behalf of their customers. Users of this platform have often commented how the Nuvi logo is enticing attracting more and more people to their site. Thus, the platform has not only valuable functions but also looks good!
Features Of Nuvi
The features of Nuvi are as follows,
1. Social Listening And Sentiment Analysis
Social listening is an important feature that allows users to track if there are any notable changes regarding what people are talking about online or their moods in real-time. Thus, Nuvi helps you monitor the sentiments of people online.
2. Social Media Content Management And Monitoring
The Nuvi social media review feature is too good – with it, you can preview, publish, track and review your social media content without any hassles. Managing content and monitoring social media can be a tricky job but with platforms like Nuvi, managers should breathe a sigh of relief.
3. Global Content Library And Competitor Monitoring
The global content library in the platform is highly vital because it monitors the presence, reputation, and strength of branding businesses. In fact, there is a single dashboard just for tracking the performance of competing businesses.
4. Data visualization And Audience Engagement
Nuvi uses several visual elements like charts, graphs, diagrams for making users understand and keep up with the relevant trends. If users do not understand trends, the first area to suffer will be the audience engagement zone. However, the Nuvi software takes care of that as well.
5. Reputation Management
The Nuvi software does a great job of managing the reputation of brands and saves you time as well as money – you are no longer required to pay a hefty sum of money to some PR every month. You can now monitor the conversations surrounding your brand through the reputation management feature.
If the above features have impressed you a lot, then you must know that Nuvi has several other enticing features like,
Real-time monitoring.

Publishing.

Listings.

Facebook topics data.

Mobile content compatibility.

Social community platform.

Integrated Twitter analytics.
Benefits Of Nuvi
The benefits of Nuvi are several. Scroll down to find out the advantages of using this software,
1. Analytical Benefits
The software gives users access to advanced data that helps in making analytical decisions concerning their own business and even keeping up with competitors' movements. The data collection process is smooth and accurate, thus ensuring that the data is genuine.
2. Easy To Operate
Another benefit of using the software is you can access it from any device at any time of the day without any difficulties. Additionally, the software does not require users to possess any knowledge of advanced technology. All tools can be accessed by beginners as well as experts.
3. Scalabilty
The scalability of Nuvi is vast – you can use it for all your social media platforms quickly and even use it for dealing with multichannel releases and committed content plugs. While large businesses can use customizable tools for specialty niches, small businesses depend on analytics integrated within the enterprise with minimal complications.
4. Cost-effective
Lastly, the Nuvi prices can ensure users that it's an excellent value for money. There is no absolute fee for setting up the software on your system. However, there exists no free version of the software, and the premium version does not allow any free trial alternatives. But you know what, this one's worth it!
Frequently Asked Questions (FAQs):
1. What Is Nuvi?
Nuvi is one such platform that provides social media analytics and customer experience management services to users. Created on a privately-owned language search engine with professional listening precision. You can plan, analyze, post, publish, engage, review, and do several other things for boosting customer experiences.
2. What Nuvi Is Best?
The best thing about Nuvi is it allows users to analyze social media insights and take decision-making steps for enhancing a brand's holistic approach towards boosting customer experiences and, in the process, increasing your business revenue.
3. Where Is Nuvi?
The headquarters of Nuvi is located in Lehi, Utah, Chicago, Illinois, with Michael Mullarkey as its chief executing officer. Since 2016, the app's SaaS-based features have been used by more than 300 people globally and more than 800 people alone in the United States.
4. Why Use Social Media Listening Tools?
One of the most innovative things about social media is how it allows users to keep track of sentiments on social media platforms in actual time. This helps users to find out when people are talking more on the platforms and even their individual moods.
5. What Is The Hootsuite Tool?
One of the most popular apps at the present, Hootsuite, is a social media management tool that enables users to use an integrated interface for keeping track of all social media interactions and activities.
Conclusion
Nuvi is one-of-a-kind software, mainly because of its intuitive features like social listening and sentiment monitoring. If you are still in doubt, visit www.nuviusa.com today and learn all you need to know about this groundbreaking software in more detail.
Read Also: