We can all agree that TikTok is a very addictive platform!
With an endless number of videos and content, once you start scrolling, you are down the rabbit hole and won't come out from it before 5 to 6 hours, which is guaranteed.
But if you think that you are getting inspired by these TikTok content ideas and wanna make a few by yourself, then nothing can be better than that.  
Now, if you wanna be TikTok famous and go viral, then you need to pick great TikTok content ideas, and that can be difficult, but not without a little bit of help from me. So let me tell you a few great TikTok content ideas that can make you go viral overnight. 
Viral Tiktok Content Ideas To Try Out
Let's be clear that, nowadays, it is really easy to go viral, even with a single TikTok video. You may never know what trend is gonna work and what is not gonna work since there is something or the other trending on TikTok.
It is a talent to pick the right TikTok content ideas because maybe today the trend is generating buzz, but tomorrow it may die down. This is why staying on top of the trend and understanding what your target audience wants is really important. 
So if you wanna become a social media influencer, then you always have to be updated on what's trending and what's not at all times. At the same time, it is best to create a content calendar for all your TikTok content ideas. 
1. Try Dance Challenge
Do you feel groovy? Then put your dancing shoes on, since nothing is better than making a dancing challenge video content on TikTok. 
Every now and then, there is a dancing challenge of some type that generates a huge buzz over on TikTok. So if you are a good dancer, then you can take part in that challenge.
2. A Day In The Life Videos
Once you wish to be a social media influencer, then there is no such thing as personal life; everything is out on social media.
Your followers might wanna know what you usually do in your daily life, and these videos are really popular and have a tendency to go viral. So you too can try making a "Day In The Life" TikTok video. 
3. Lip Syncing Videos
You might not be a really good singer, but you can lip-sync the hell out of a great song. There are really great editing tools that you can use to make these videos using great and popular music for you to lip sync.
After making the video, you can add creative and funky filters to make your videos attractive and viral-worthy. There are many influencers who have gained a good amount of followers just by lip-syncing.
4. Show Products In Action
Have you ever heard of the term "seeing is believing?" If you wanna get TikTok famous overnight, then marketing different online products on the platform is a great way of getting famous and securing brand deals and sponsors.
Reviewing weird and unique products on TikTok is a great way to gain more and more followers in a short span of time.
5. Create Funny Pet Videos
One of the easiest TikTok content ideas that you can create is funny animal or pet videos. Everyone loves funny and adorable pets or animal videos. It doesn't matter if they have pets or not; it is something that everyone loves. 
So, if you have a cute and funny pet who does weird tricks, then follow them around, capture those hilarious and cute videos, and upload them on TikTok. 
6. Post A Popular TikTok Challenge
TikTok became such a huge platform because of the TikTok challenge videos. Whether it's a dance challenge, acting, or a stunt challenge, you can create TikTok content ideas with any of these challenge ideas and get viral.
Some of the trending TikTok challenges are.
Vampire Challenge – "TikTok is sinking its teeth into Olivia Rodrigo's new single Vampire. Use the trending track to share a beloved recipe, a clothing hack, or the ultimate thrift find." The current hashtags of this post are 152.6K.
Barbie World – "Nicki Minaj and Ice Spice's Barbie World is trending just in time for the Barbie movie premiere, and it's the perfect opportunity to get pink. Use the track to show off your Mattel-inspired fits, decor, food – really anything and everything pink!" The current hashtags of this post are 174.3K.
7. Give Short Tutorials
Whenever you feel like that, you have run out of good TikTok content ideas; then, at times like these, you can use your talent and make short tutorial videos.
The video can be a tutorial for anything, either a clothing hack, a recipe, or even a life hack that you have mastered over the years.
8. Try Duet Videos
Another type of video that has been gaining a lot of traction is the duet video. If you don't know what they are, then they are actually two videos playing side by side.
One is the original video, while the other is a response to the original video. These types of interactive videos are really fun for a platform like TikTok.
9. Art And Craft Videos
If you are an artist and do it professionally, then TikTok is a great platform for you to showcase your talent and get recognized on a larger platform.
You can upload short videos of you making DIY crafts and beautiful portraits. This way, you can get clients who might wanna buy your art and hire you for certain projects.
10. Try Popular Recipes
If you are a good cook, then as great TikTok content ideas, you can make content with cooking videos. These videos are really fun, and you can also make it really entertaining at the same time. 
If suppose you eat vegan food, then you can show interesting vegan recipes that are easier to make for everyone.
11. Create A Comedy Skit
With TikTok gaining more and more popularity in every sector of business, it is pretty obvious that every area of entertainment professionals has a TikTok account.
And so do comedians. If you are a comedian, then it is best to prepare small comedy skits for TikTok as a way of showcasing your talents and promoting yourself as well. So you can easily prepare mini acts or skits and make them into Tiktok content ideas. 
12. Green Effect Feature Videos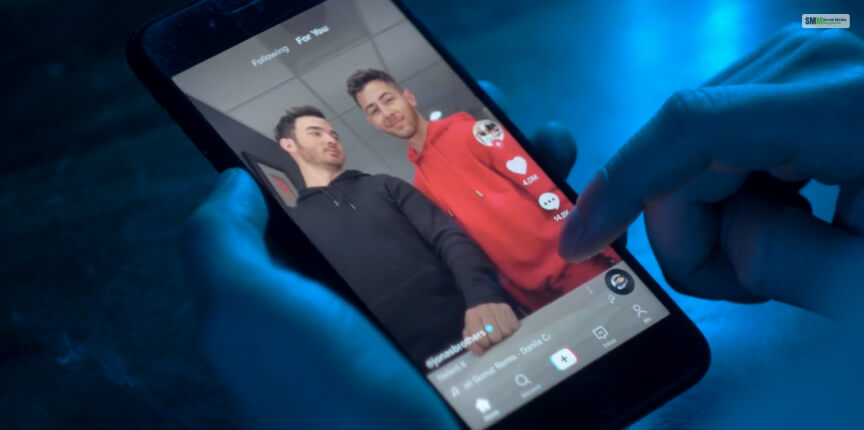 The platform already has amazing features and editing tools, so by using them, you can make anything into a high-quality professional video. But if you wanna add something a bit more creative to your video, then try out the green effect feature video. 
Using some editing skills, you can easily turn these videos into a mini-movie. With the green effect feature video, you can blur your background and also enhance the content of your video. 
13. Try Behind The Scene Videos
Who doesn't like a good behind-the-scenes video? I know I do; they give an insight into the way you make a video. People love to see a video like that, so you can make that happen.
You can show the brainstorming period for a video, but mainly, the bloopers are the fun part that everyone wants to see. These behind-the-scenes videos are a great way of engaging with your audience. 
14. Try Makeup Videos
One of the biggest industries in the United States is the makeup industry. For everyone from makeup artists, makeup gurus, makeup enthusiasts, and even celebrities, making makeup videos is a great way to connect with each other.
If you love makeup, then there are endless ways you can create a stunning makeup look for practically any occasion. Now, if you want, you can create makeup looks that are only for creative purposes and nothing else; their makeup looks are just stunning to look at. 
15. Collaborate With Other Creators
Due to its interactive, quirky, and fun videos, more and more content creators are coming to the platform and collaborating with each other. 
If you are collaborating with another creator with a good number of followers, then that is a great way of increasing your followers, getting more and more recognized, and building a community relationship.
16. Do A Branded Hashtag Challenge
There are a lot of different hashtags that you can use to create your videos. One of the more effective ways to build a more engaging audience base and platform.
If you build brand awareness and think of creative hashtags to engage and encourage other brands to take part in it as well. Pick a hashtag that is a bit simple for you, and don't make it overly complicated with the meaning behind the hashtag.
17. Shoot Workout Videos
Get ready to be Fit and fab! If you are a fit person, then you can share your secrets to a healthy life by making small videos for TikTok.
There are a lot of fitness enthusiasts out there who may not get the time to go to the gym, but watching your videos might try to get fit. 
You can show different exercise routines and routines to live a healthy life; this will motivate and encourage others to lead a healthy and fit life.
18. Try Science Experiment Videos
Who doesn't like to watch DIY science experiments and hacks? They are always really fun to watch, and if you have a science background, then you can try that out as well.
For high school students, they will learn a lot from your videos since the science projects can be both fun and educative. With these videos, you can really engage a huge demographic of students.
19. Shoot A 'Get Ready With Me' Clip
When it comes to TikTok content ideas, there are hardly any type of videos that are more popular than GRWM or Get Ready With Me videos. From influencers to celebrities, everyone is very much into making these GRWM videos on their TikTok platform. 
You can make these videos quite attractive with music and an aesthetic setting overall. There can be a lot of different types of GRWM videos, such as on a daily basis, or it can be for a special night or even for an event.
20. Go With Educational Videos
If you think that dancing and lip-syncing is something that you don't wanna do. Rather you wanna use your educational qualification to good use. 
Then you can use the platform for educational purposes. This is also a great way to create an engaging audience but in a more fun and interactive way rather than a more serious way.
21. Try Q/A Videos
If you wanna build a more interactive platform, then occasionally, you can upload a Q&A video and answer a few questions that your audience might have for you. 
But it is true that you can only have a Q&A video if you already have an interactive audience. And with these videos, you can build a stronger bond with your audience. 
22. Share A Quick Tip
If you are someone who is very much into life hacks and crafted a few to make your life easier, then it might help others as well.
You can devote your channel to giving others life hacks, tips, and DIY projects to make their life easier. The video can easily make these videos fun and entertaining by adding music to them or making the whole video comical.
Wrapping Up!
Well, there you go; these are a few great TikTok content ideas that you can really work with to make viral content on TikTok. All these amazing video content ideas are tested and proven to be quite effective for gaining a substantial number of followers on TikTok.
And with good content, your video might even become viral. So if you think that this article was helpful, then give it a well-deserved like and comment down below.
More Resources: