With the advent of social media optimization tools, boosting the likes and followers lists is not much tedious anymore. Basically, in this era of social media marketing, the fundamental aim of all influencers and businesses is to boost growth. So using such tools help your business grow dramatically, and this makes perfect sense.
 Inflact is one such social media optimization tool that claims to promote your brand and business seamlessly. Perhaps you have heard about it but aren't sure whether it's safe or not, right? Well, we are here today to guide you in this respect only. Read the guide till the end to know if Inflact Instagram viewer is a SCAM or LEGIT?
What Is Inflact?
Let's begin our review guide with an informative Inglact definition.
What is Inflact? Inflact or Inflact.com is a social media promotional tool that markets itself as an Instagram service for growth.
What do they offer? They claim to provide free likes, and free followers as well as several other services. According to team Inflact, their two broad growth concepts – automation and marketing bring scalability to your Instagram business.
What about their terms and conditions? Since the platform abides by Instagram's terms and conditions, the privacy concerns are really very negligible.
Is Inflact rebranded? Yes, its previous name was Ingrammer.
This is all about Inflact at a glance.
What Are The Key Features Of Inflact?
Now that you have got an idea of Inflact at a glance, I am sure it has piqued your interest to know more. That's great! So, what are the key compelling characteristics of Inflact? We have jotted down some below…check them out.
Auto Like + Auto Follow
Inflact makes your account come under the notice of other users without spamming them through auto like and auto-follow. Thus, you get organic content.
Full Control
With this took, you will get full access to all the target settings.
Auto Posting
You can schedule your post at a pre-identified time to make your Instagram account systematic and organized.
Advanced Filters
It allows you to target some specific group of audiences by narrowing down your targeting options.
Extended Functionality
Apart from the above features, some of the extended functionalities of Inflact Com Instagram is watching stories, hashtag generator, providing black list, etc.
Detailed Statistics
Get easily interpretable Instagram account statistics.
Gifts And Bonuses
You can get discounts or free followers and likes.
Smart Unfollow
Unfollow unnecessary people to keep your account clean and secured.
Pros And Cons Of Inflact
It's true that not everything about Inflact Instagram viewer is good. While the advantages are enthralling enough, the cons or disadvantages are although concerning, but very few in number. We have made a comparative analysis of the pros and cons in the table below:
| | |
| --- | --- |
| Benefits  | Disadvantages  |
| Wide range of services, and features | Sometimes, the user interface is slower |
| Secured Website  | There are some reviews stating this platform is a SCAM. |
| The price breakdown of the packages is visible  | Few customers' accounts have been banned after using this tool.  |
| 24*7 Customer support | |
| Verified and secured payment gateways | |
What Are The Pricing Plans Of Inflact?
How much does it cost to use the benefits of Inflact? Well, firstly, Inflact is not a free platform, and you have to spend a significant amount on it. Below, the pricing plans of Inflact Instagram viewer is mentioned along with what features you can expect from each plan:
2 Weeks Or 14 Days For €19 Per Account
Smart analytics.

Auto Unfollow and follow.

Advanced likes Automation.

24/7 online customer support.

Targeting via locations, usernames, and hashtags.
1 Month For €24 Per Account 
Everything is included in the 2-week plan.
3 Months For €57 Per Account 
Personal manager for supporting and guiding you in the promotional process.

Everything is included in the 1-month account plus.
What Are Some Other Alternative Instagram Growth Tools?
There is nothing wrong with keeping some alternatives in your bucket list. Who knows which tool will get shut down in the future. Hence, instead of depending on a single one, keep some options in your hand:
Growthoid

– Top rated social media optimization tool.

Nitreo –

First class Instagram engagement tool.

Upcleap –

Simple, effective band engagement tool.

StormLikes –

Gives Suthetic Instagram Engagement.
What Users Are Saying About Inflact.com?
Below, we have presented some legit reviews on Inflact com collected from Trustpilot.com. I'm sure it will give you clarity about the tool:
1 Review:
2 Review: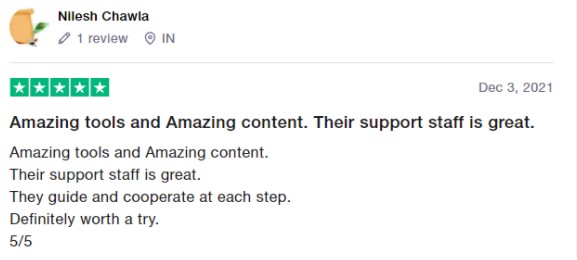 3 Review:
4 Review:

Frequently Asked Questions (FAQs):

Q1. Is Inflact Safe?
As Inflact's functionalities go perfectly with the Instagram user policies, it seems that the platform is safe to use. However, few users have complained about account banning a few days after using it.
Q2. Is Inflact Com Safe?
Inflact com has a rating of 4.6 stars out of 5 on Trustpilot.com which is actually an Excellent rating. In addition, there are 558 reviews, most of which indicate that the customers are quite satisfied with Inflact. Even, Imflact ranks 12th among the Top Social Media Tools Sites List.
Q3. What Are Some Top Inflact Alternatives?
Some of the top Inflact Alternatives which give actual good results are: Growthoids, Imginn, Seek, Growthsilo, Nitro, etc. Each of these is Industry's famous Instagram growth tool with top ratings and feedback from the users.
Q4. Does Inflact Work On Instagram?
According to the majority of the Inflact users' feedback, it's a great Instagram Growth Tool. It is users only who have recommended Inflact as a "good try." Moreover, it allows you to boost the number of organic followers without many manual activities on the plate.
The Verdict – Is Inflact A Scam Or Legit in 2022?
At the end of the review, I can say that Inflact.com seems to be an honest, legit, and feasible choice for growing your Instagram profile. It is easy to use, has diversified features, effective, and popular among users. Hence, a THUMBS UP from our end for this platform. Do you have any thoughts other than these about Inflact com? Do let us know in the comment area below if you have any other viewpoints. We would love to hear you out.
Read Also: