Social media platforms like Facebook, Instagram, Threads, and TikTok have become the primary social media marketing tools. Along with YouTube, marketers are searching for new ways to understand their audience and cater their content to them better. This is why AI tools like Audience AI are becoming necessary for social media content creators and marketers in this age.
If you have a social media channel for marketing, then you have to read this post till the end. I understood various great uses of this AI tool, which you can use to connect and understand your audience better!
What Is Audience AI?
The Audience AI checker tool is an online AI tool you can use to gain insights about your target audience. This tool extensively uses AI to machine-learn social media algorithms to identify audience behavior.
Wherever you have an online audience – be it on social media, YouTube, your Google blog, eCommerce website, etc. – Audience AI will analyze these platforms. It will help in identifying every detail about your target audience.
The primary goal of this audience segmentation platform is to help you understand your audience better. This will help you create better marketing strategies, which will help you make an even bigger audience!
Audience AI identifies your audience and analyzes their search patterns, website interactions, social media behavior, and more!
What Are The Main Features Of Audience AI?
The primary features of Audience AI are:
1. Keyword And Content Type Identification
The main feature of Audience AI is to find out which phrases your audience uses to find your content. Therefore, this tool finds out keywords that lead them to your content. In addition, it will also find out what other keywords they use and engagement captions they prefer.
Overall, it gives you the search patterns of your online audience. This will allow you to tap into more keywords that you can use in your online content. Therefore, it will help you retain your audience and gain new ones!
After using Audience AI to analyze my readers on this blog, I found out they wish to know more about social media AI tools and strategies. Now I know what kind of blog I should work on!
2. Website Interaction
No matter what type of content you have, Audience AI will help you get a detailed description of viewer behavior. Therefore, you will get to understand what they do once they enter your website.
Here, I found out how much time they spend on your websites, what content they engage with, whether they click on the ads on your website, the actions they take (like filling out forms), etc.
3. Social Media Behavior
Social media is becoming one of the best marketing tools for businesses. Therefore, you would want to know how your customers engage with your content. This will significantly help people using the TikTok Creative Center.
This includes discovering whether they like, comment, and share your posts, which content they see the most, and more. This will give you a good idea of what type of content your audience and customers prefer. This allows you to generate more of it and retain them longer!
4. Purchase History
If you have an eCommerce website, you would want to know what type of purchases they have made. Here, Audience AI checks out their purchases and predicts which products they wish to purchase in the future.
How To Use Audience AI?
Audience AI goes through several steps to discover every detail about your social media audience. Its goal is to help you understand your audience better. Therefore, it does so by collecting data about your website and social media audience.
The steps this audience segmentation software follows are:
1. Data Collection
The first step of Audience AI for collecting data on customer interaction is – collecting data. The various types of customer data it collects at first are:
Search histories
Website interactions
Social media behavior
Purchase history
Therefore, you select the type of solution you want (thumbnail or video analysis). After deciding which solution you want, just feed it links to your content.
2. Data Filtration For Report Preparation
The next step in gaining audience insight for your social media platforms and your website requires data filtration.
Since Audience AI gathers a lot of data on your customers, there will be some duplicate and missing data. Therefore, this tool filters out duplicate data in this step and collects any missing data.
3. Building Profiles
Caption: You get to know your audience persona better
After creating a report on your customers' social media behavior, Audience AI uses machine learning capabilities to develop audience personas. However, generating this report takes around 12 hours.
This details the type of content your audience likes to watch and how well they engage with your content emotionally. In addition, taking YouTube as an example, Audience AI gives detailed reports on what type of thumbnails they are more willing to click on!
4. Marketing Strategy
Take the YouTube example from above. Since Audience AI gives you insights about their thumbnail preference – you know what to focus on. YouTubers can use this knowledge to understand what type of visual elements to include in your thumbnail to attract them.
The same goes for your website as well. Depending on the type of fonts and page design you use, you can learn to retain your audience for longer. In addition, you can also find out the best time to post on YouTube as well!
What Are The Main Benefits Of Using Audience AI?
The main benefits that I understood after using Audience AI briefly are:
1. Improved Marketing Efficiency
Since Audience AI provides you with customer insights, you get to understand what their preferences are. Therefore, using this knowledge, you can develop the perfect social media plan to increase engagement through the roof!
2. Better Audience Engagement & Conversions
Now that you know what content elements your audience enjoys the most, you may start using them. If you do so, you will see better engagement and interactions with your audience.
Therefore, you will also see an increase in your conversion rate due to personalizing your content. Additionally, you can use a YouTube moderator as well!
3. Identifying New Trends And Customer Preferences
Since the digital world is changing rapidly, customer trends are changing frequently.
Therefore, to ensure that your content remains up to date, you must ensure that your content aligns with current trends. Audience AI helps you do this easily for your social media channels.
Audience AI Price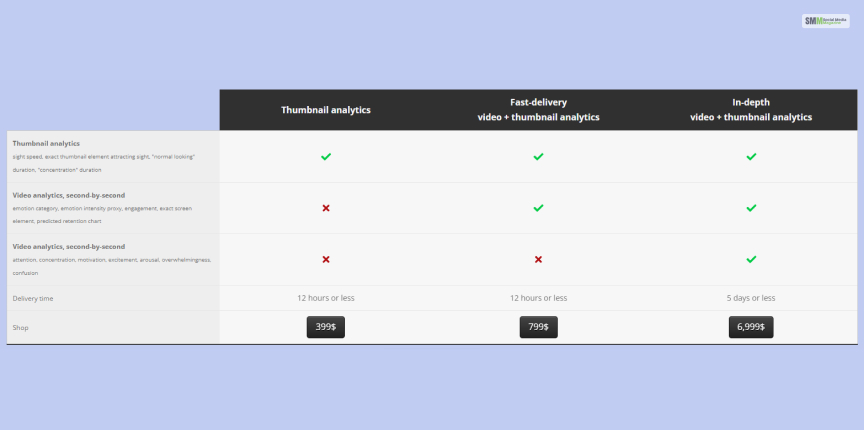 Depending on the two primary features of Audience AI, this tool has a pay-per-feature plan. Therefore, if you are worried about what you need to pay, here are the payment options available to you:
Thumbnail Analytics: $399
Fast Delivery Video & Thumbnail Analytics: $799
In-Depth Video & Thumbnail Analytics: $6,999
Are There Any Good Audience AI Alternatives?
After scouring the internet, I found no tool with similar features to Audience AI. However, some of the few good Audience AI alternatives with similar characteristics are:
1. Hootsuite
Regarding social media management, Hootsuite has been one of the best tools. It allows you to dive deep into gaining your audience persona, keep track of audience engagement and performance, and lots more!
2. Brandwatch Consumer Intelligence
If you wish to monitor every aspect of your social media efforts, Brandwatch Consumer Intelligence will be your best bet. This tool allows you to utilize and analyze all your conversations from all your social media profiles.
Final Verdict
Audience AI is a handy tool for businesses using social media platforms and YouTube as their primary marketing channels.
It helps you understand what your audience likes about your content and what they wish to see. This will open up a web of possibilities for you to improve your social media marketing strategy in myriad ways!
However, its price is on the more expensive site, where the return on investment might not make up for it, especially for smaller channels and businesses. This remains to be its only drawback.
Pros
Cons
• Get to understand your audience better
• It will help in improving your content creation and marketing strategy
• Very expensive
• The entire process takes 12+ hours to complete
More Resources: