The start of everything becomes a nostalgic memory for us, so does Instagram the glory days of the year 2010 when everybody came to know about Instagram cannot really escape your brain. Remember how there was only one filter called Valencia filter that we used in every picture and getting 20 likes was enough to get satisfied.
In those days we could actually post anything we liked and were not really bothered about the picture quality or the lighting. Now that Instagram has so many features to offer, we sometimes think about how clumsy and unattractive our early posts were.
Therefore if you think of virtually erasing that awkward evidence of you being so naive, then you have come to the right place because I know you want those pictures gone from your profile.
In this article we will talk about how to delete an Instagram post along with archiving it, we will show you the steps chronologically that will delete a post you want gone.
How To Delete Instagram Posts?
We are aware of the reputation that Instagram has for being the most user-friendly social media app, that is currently available within our reach, and to even make it easier to handle the deleting of posts, Instagram is one step forward to make the process easy.
Here is how you can delete any post on Instagram:
Open your Instagram app, log in.

Press the profile icon which will be at the bottom right corner, to navigate to your profile.

Now look for the photo that you wish to delete, by scrolling down all your pictures.

Once you have found the picture you want to delete, tap the three dots at the top right corner of the screen.

Now, tap delete.

Congratulations, now nobody can ever judge you by your choice.
By following the steps above you will be able to delete any picture you want, permanently.
You will not just delete the picture or video but you will lose the likes and comments on that post, so think before deleting because once you do it, no coming back from it.
Did I freak you out? No need for that because I have a way of just removing the picture from your home feed instead of losing it forever.
You may like to read: Is SaveIG Instagram Reel, Photos, Video Downloader Worth Using?
How To Delete Instagram Post With Possibility Of Recovery?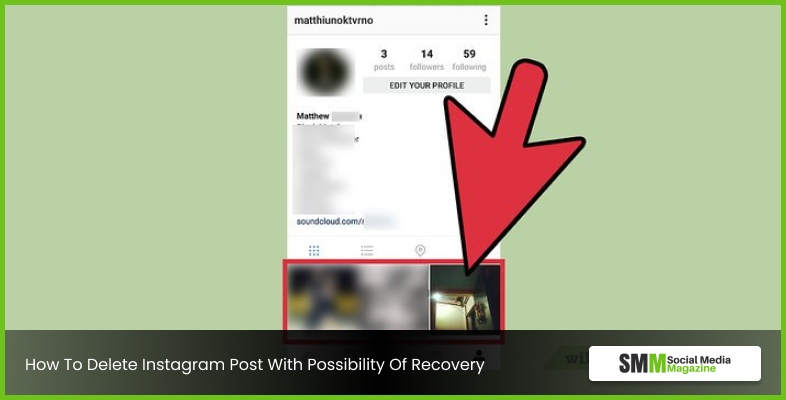 I know it doesn't feel good to delete those first pictures you clicked to get onboard. Pictures have memories with them and since we can't time travel, pictures are the only thing that we cherish those periods forever. So don't delete it, archive it.
Before 2017, the only way to remove your pictures from your profile was to delete it and never get them back. But now the game has changed for once and for all. Now Instagram has an Instagram Archive feature that allows you to remove a picture from the public eye and store it somewhere for your eyes only.
This private gallery is not visible to anyone but you, no one can see or access it.
How To Archive A Post On Instagram
Open the app.

Tap the profile icon which is at the bottom right corner of the screen.

Find the picture you want to archive.

Tap the three horizontal dots that are at the top-right of the photo.

Just archive it, you are done.
How To Unarchive A Post On Instagram 
You can also unarchive any posts you want. These are the steps you should follow.

Open the Instagram app.

Press the profile icon.

Tap the three horizontal lines.

Tap archive.

Locate the picture you want to unarchive.

Again tap the three horizontal lines.

Now tap 'show on Profile'.
How To Access The Private Gallery
Open the Instagram app.

Press the profile icon, you know where it is.

Tap on the horizontal lines at the top-right of the screen.

Tap on archive and there you will find all the pictures you have archived.
Read more: Path Social Review: Will It Help You Grow Your Instagram?
How To Mass-Delete Posts?
There can be a moment when you will like deleting a bunch of pictures all at once. The ideal way to do that is to select all the pictures and delete them at once. But Instagram does not support that feature.
But nothing is really impossible in this era, we have third-party apps that delete a bunch of pictures all at once. Here we will show you how to delete multiple pictures all at once by using Instaclean, which is available in the app store.
Follow the steps here to delete many pictures at once with the help of Instaclean:
Open the instaclean app.

Log in with your insta account.

Authorize the instaclean app to have access.

Tap the media button at the bottom-right corner of the screen.

Select all the photos you want to delete.

Tap the trash can button which is at the top right corner of the screen.

Now select delete.
How To Restore Deleted Pictures
You can't do this through the Instagram app itself. Instagram will only recover the pictures that have been archived, not the ones you have deleted. A deleted post is removed forever and you can't get that back.
Don't freak out please, because the pictures or videos that you have deleted from Instagram are there in a specific album in your camera roll tilted as Instagram Pictures.
Time to turn on the original photos feature:
Open the app.

Press the profile icon.

Tap the horizontal lines.

Go to settings then account and then original photos.

Now tap the toggle button to enable this feature.
Wrapping It All Up
There you go with how to delete Instagram posts along with many ways to archive and restore the ones you have deleted.
To get a bit overwhelmed if by mistake you have deleted a picture is absolutely normal and obvious. But resolving issues is also very easy if you find the right article where the solutions are properly given.
Leave a comment down below in the comment section and share your experience with us. You can also post your doubts here and we will try to come up with relevant solutions.
Read Also: